Hanging out with his wife and daughters, running, taking long walks with his dogs Zeke and Sparrow, music, books, cooking. These are some of the things that make Freddy, Freddy.
A few highlights:
1. His little league football team made it to the Super Bowl four times in a row. They lost every one of those games.
2. Freddy sat the bench during the entire season of varsity football at Klein Forest. But he was awarded the "Fighting Eagle" award. Likely out of pity. We're not sure.
3. He competes in the Celebrity Goat Milking Contest at Rodeo Houston. He's never won.
4. Freddy has successfully met Hilary Duff and Kate Upton without having a restraining order filed against him.
5. He's cooked for his family for more than thirteen years in a row without making anyone sick.
And now, a few questions answered by his kids:
What's your favorite dad quote?
     "Boujee is the root word to bourgeoisie."
When was the last time he embarrassed you?
     "It's hard to remember because he has done it a lot."
On a scale of lame to mediocre, how bad are his dad jokes?
     "Mediocre, but he is really funny when he doesn't try to be."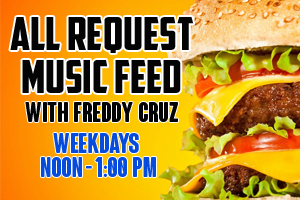 Monday – Friday | Noon – 1pm
For one hour every weekday, Freddy will play your favorite hits.  At the end of the hour, he'll take a "Big Bite" with a request for something you haven't heard in a while, or something brand spankin' new! Tweet your requests to @krbe, send via text to 37530, or call 713-390-KRBE (5723). You can also download the KRBE App and record your request and submit it to Freddy through the app.