He likes coffee…a LOT.  He also really likes bacon.  And he really, really likes Star Wars; but the story about tazing him because he tried to take the Yoda statue in the KRBE lobby is false.

Music, movies, history, and cooking are just a few of Freddy's interests.  And trust us, he can go on for HOURS about all of them.

Freddy is married to his college sweetheart, who he stalked for 2 weeks in accounting class at UH before FINALLY talking to her.  They have 2 daughters & a dog (who he thinks understands English & will one day reveal all of his secrets).

Overall, he's a nice guy.  Just don't get him started about the zombie apocalypse.  No, really.  Don't.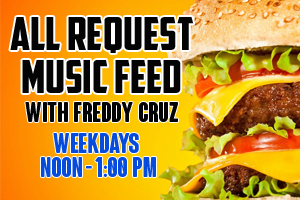 Monday – Friday | Noon – 1pm
For one hour every weekday, Freddy will play your favorite hits.  At the end of the hour, he'll take a "Big Bite" with a request for something you haven't heard in a while, or something brand spankin' new! Tweet your requests to @krbe, send via text to 37530, or call 713-390-KRBE (5723). You can also download the KRBE App and record your request and submit it to Freddy through the app.