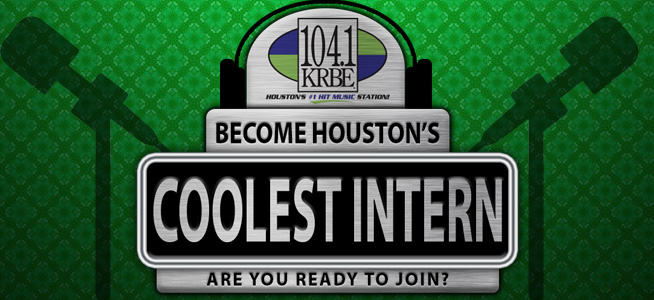 Congratulations to all Spring 2017 interns!
Check out the internship opportunities below that are available at 104.1 KRBE.  Send us your resume and let us know which department you are applying for, what school you are currently attending* and what semester you are inquiring for.
* This is an unpaid internship and you must be a student eligible to receive school credit for your work hours.
*

Must be able to submit proof of eligibility for internship from school
E-mail us your resume at intern@104krbe.com TODAY!  

Do you stand out in your squad? Do you embrace an awkward conversation? Can you adult? Do you live for pop culture? Are you always out and about?
H-Town Live with Tyler Frye is looking for Interns who aren't afraid to be superstars (Mon/Fri 7p-11p)
Duties would include: helping with show prep, social media accounts, handling in-studio guest appearances, blogging and on air topics.
This is not your normal office 9/5p internship, must be on time and reliable.

DUTIES:
Assist with researching and/or writing headline, articles, news and music stories/items and local events for the KRBE website.
Assist with the planning, organization and implementation of station events/special projects (ie concerts, Studio 104, community events, station appearances, etc)
Assist with prize management & distribution, such as creating or maintaining contest winner databases, contacting prize winners, and organizing winner forms, etc
Assisting the Promotions and Marketing Department as needed (special projects, sales presentations, marketing research, etc)
JOB SUMMARY: As one of the most promotionally active radio stations in the Houston Market, 104.1 KRBE is seeking individuals who will be excited and responsible for promoting the station in a fun and positive way by interacting with listeners and the community at various outdoor events as well as assisting with the execution and coordination of multiple "small" station events/promotions as necessary.

KRBE's Digital Team is seeking an energetic intern who will help with important projects which include producing content, helping with photos and multimedia for KRBE on the Web, as well as helping with creative solutions for client / programming / promotion requests. Graphic design skills are a plus. The intern will gain technical experience working with HTML, Photoshop and our database-driven content management system. Attention to detail & demonstrated ability to work under pressure and deadlines and a positive outlook are essential.

How would you like to learn to record all the KRBE artist liners as they visit the radio station?  Has anyone ever told you that you have a cool radio voice and maybe YOU should get into voiceovers? Are you a creative-minded person that likes to build things from scratch and learn how to use the latest audio software programs to make radio commercial?  You'll learn the skills that will make you an asset and set you apart when applying for radio jobs all over the country.  If this sounds like you then apply as an intern to be a production assistant at 104.1 KRBE.