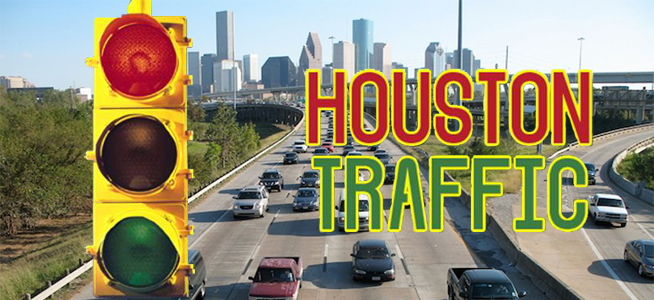 Click here for all of the latest traffic updates from Houston Transtar.
For the weekend of January 12
Weekend Delays:
Rockets vs Thunder Thursday at Toyota Center @ 7pm
Red Hot Chili Peppers Saturday at Toyota Center @7pm (Doors at 6)
Texans vs Raiders Sunday at NRG @ 335pm
(Parking Lots open 4 hours before the game, but expect delays on the Feeders of 610 the South Loop, Kirby, Fannin, Main and OST)
Weekend Roadwork:
I-10 the Katy Freeway all Eastbound lanes will be closed between Shepherd and I-45 starting at 9pm Friday till 5am Monday. Crews will also have the ramps from Silber, Washington, TC Jester Shepherd and Studemont closed as well. Drivers need to use the Loop or Memorial as alternates.
610 the West Loop Northbound ramp to the Eastbound side of I-10 will be closed from 9pm Friday till 5am Monday because of the roadwork on I-10.
290 the Northwest Freeway Eastbound ramp to go Westbound on I-10 will be closed from 9pm Friday till 5am Monday
290 the Northwest Freeway crews will have a left lane closed in BOTH directions between 610 the West Loop and Antoine from 9pm Friday till 3am Monday
I-45 the North Freeway Southbound Rayford Sawdust to the Hardy Toll Road crews will have alternating lanes closed from 9pm Saturday till 10am Sunday
59 the Eastex Freeway Southbound from Laura Koppe to Bennington crews will have 3 left lanes closed from 9pm Friday till Midnight on Saturday